SuccessWorks programs this spring help students prepare for the future by building on what inspires them right now. 
Career fairs, exploratory alumni networking sessions, experience-building programs and major-based workshops offer opportunities for students of all majors, from first year to senior year. 
Students are turning out for these programs in record numbers, with over 7,000 L&S students participating at least once in the fall semester. SuccessWorks spring 2022 programs are geared to meet this growing demand through a mix of in-person and virtual programs.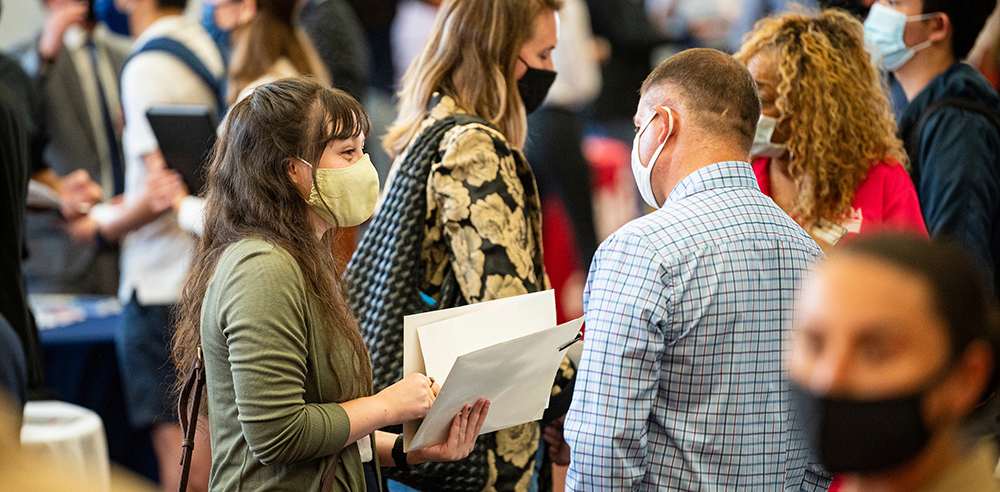 Get a Job or Internship
It's not too late to land a job or internship for summer, but it's time to act quickly! The Spring Career & Internship Fair is a perfect place to start, with in-person and virtual options February 16-18. 
Before the fairs, stop by Career Fair Prep Night on February 14 to get resume feedback from employers and advisors, practice your elevator pitch and get answers to your career fair questions.
Visit the SuccessWorks website for a full listing of all upcoming career fairs, including the Multicultural Career & Internship Fair, the Tech, Data & Analytics Fair and the Computer, Data & Information Sciences Fair.  
Seeking a crash course on how to land a job or internship? Start with our online Canvas course Jobs, Internships & How to Get Them. 
Explore by Major
You may already know that you love your major, but perhaps you're not quite sure yet where it will take you in your career. That's ok! 
Talking with alumni from your major is a great way to discover all the possibilities ahead of you. By sharing their stories, alumni show how their L&S majors prepared them for success in fields far more diverse than you can imagine. 
Major at Work events give you an opportunity to hear from a bunch of alumni at once–all who share the same major. Spring Major at Work events include Statistics, Data Science, Comm Arts, iBio, Sociology, Geography, Philosophy, Biochemistry, Microbiology and Biological Sciences. Explore all Major at Work Events on the SuccessWorks website. 
Canvas Career Conversations is a quick online course covering the basics of networking. At the end of the 30-minute course, you'll have the option to connect with one of over 200 UW alumni who have already volunteered to help. Find an alumni mentor based on major, career, or any other details that interest you. 
Explore by Career Interest
Already have an idea of what you're interested in? Start with Career Communities! SuccessWorks Career Communities are organized into eight clusters of similar occupations, based on where alumni have built great careers.
At the heart of each Career Community is an expert SuccessWorks Career & Internship Specialist who advises students and connects them with alumni mentors, tips, resources and the employers who hire L&S students. 
Discover spring 2022 programs built specially for each Career Community:

Just Getting Started?
For students who don't yet have a major, or who are still unsure of what Career Communities to start with, SuccessWorks offers a couple easy ways to take your first steps. 
First, take our fast and fun Career Interests Quiz. After answering a few questions about what you like (and don't like) to do in class, at work and in general life, we'll make some suggestions for which Career Communities to start with. 
When you're ready to dive deeper into a step-by-step guide on how to land an internship or job, sign up for our Canvas course Jobs, Internships & How to Get Them. 
Remember, SuccessWorks career advisors are always here for you. Whether you're in the middle of building your job search strategy or just getting started thinking about your interests, we're available to talk!
–
Career Interest Quiz