OPEN TO ALL MAJORS
When: February 4, 2020 from 4:00pm to 8:00pm
Where: Kohl Center

Set up your profile in Handshake to take care of everything you need to explore career events, manage your campus interviews.
Do your research and apply for internships & jobs with over 200,000 employers around the country.
---
For the 2020 Spring Career & Internship Fair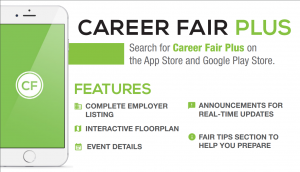 Research companies and plan your strategy for navigating the Fair!
Download for free on
SuccessWorks Events and Fair Resources for Students