Pop-Up Career Advising
Have career questions? During career fair season (September), SuccessWorks advisors meet you where you are!
Visit our Career Advising Specialists every Wednesday from 1-4pm at the locations below with your resume and career questions. No appointment needed, and availability is first come, first served.
Fall 2023 Drop-In Dates:
Computer Science Advising Office (4th Floor, Tower 2) on September 6, 13, 20 and 27
Data Science Advising Office (1217C, Med Science Center) on September 13, 20 and 27
* Note: Pop-Up Advising in both CS and DS Offices will switch to short appointments in October through December, with drop-in access as availability permits. *
Jobs & Internships on Handshake
Here's a preview of just a few positions currently available on Handshake. Note that the date shown is not the application due date, but is the date the position was posted!
Explore Career Paths
The market for technology, data, and analytics is expanding rapidly. Your L&S degree could lead to a career in big data, GIS, cartography, actuarial science, cyber security, database management, IT support, machine learning, programming, web development and more. Check out the Career Guides below for more information about the many different paths available within this field and check out more resources here. The infographic below shows many professional paths related to computer science, data science, and information science!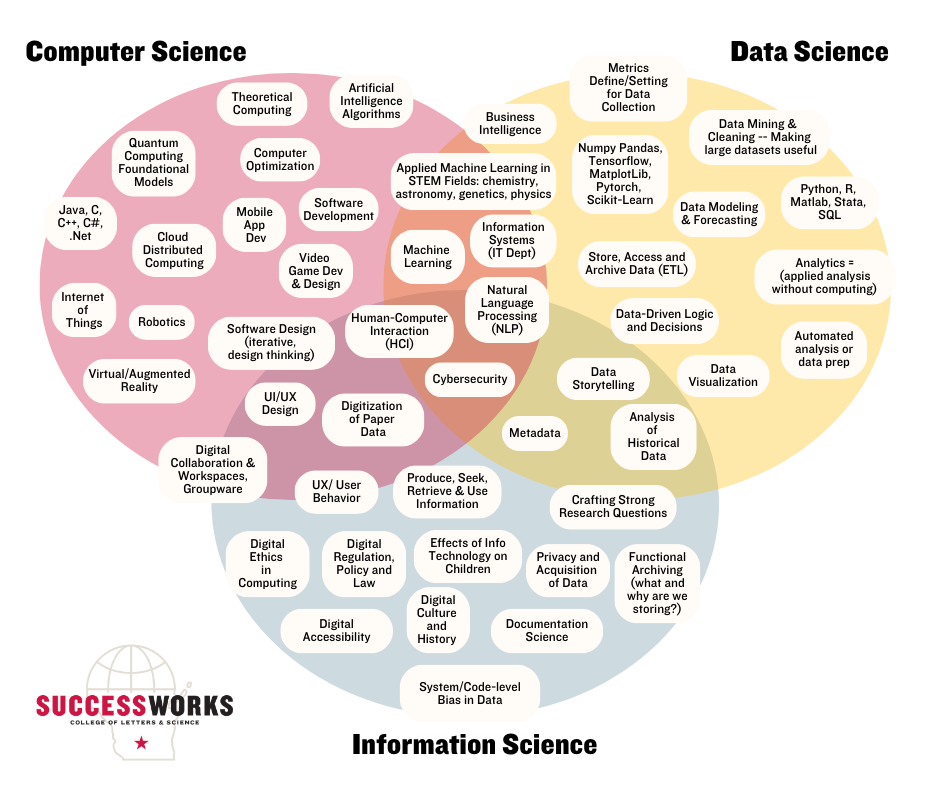 Tech, Data, & Analytics FAQ
This is an accordion element with a series of buttons that open and close related content panels.
What specific skills and experiences should a resume include for roles within Technology, Data, and Analytics?
Programming Languages, Tools, Software and Concepts

NOTE:

basic/fundamental proficiency is often all that is required for internships or entry-level jobs. Don't underestimate your own ability to learn quickly! 

Core programming languages, frameworks, technologies, softwares, and/or tools

(e.g. Python, R, Java, SQL, C, C++, C#, Ruby, Javascript, HTML, CSS, Git, Jira, AWS, GCS, Pandas, NumPy, Matplotlib, PyTorch, MongoDB, Docker, React, Swift, Flutter, Visual Studio, Visual Box, Adobe PS, etc.)

Advanced concepts

(e.g. Object Oriented Programming, Computer Vision, Machine Learning, Artificial Intelligence, Deep Learning, Applied Regression Analysis, Mathematical Models, Differential Equations, Linear Algebra, Algorithms, Data Structures, Database Management Systems, Scrum methodology, Ideation, etc.)

Design and development experience

– well-rounded developers and engineers are familiar with what it takes to plan and deliver a finished result. 

Build this skill through volunteering code, hackathons, personal projects, research and internships. 

Teamwork and Collaboration

– rarely do developers work alone in their professional career. Just like in college, you'll work in large and small teams. Demonstrate those abilities on your resume with any org, volunteer or group experience.

Communication –

as with any role, this skill is particularly important since you will inevitably need to communicate your research, design, process, and results to stakeholders that sometimes don't even possess a technical background; therefore, demonstrating that you possess strong verbal

and

written skills is key! 
Do I need a major or certificate in Computer Science if I want to pursue a career in technology, data, and analytics?
No, not necessarily! You can major in anything and still work in the technology or data field as long as you have the experience to meet the employer's qualifications for the job/internship!
If you are a student on a F-1 visa, let's chat more about this situation though because the response to this myth is a little bit more complex.
Do I need to go to graduate school to pursue a career in technology, data, and analytics?
It depends on the job you want! Whether you must go to graduate school would depend on the situation such as whether the position you want to be in will require a graduate degree. For example, if you want to be a Data Analyst, in general, you will not have to go to graduate school. However, if you want to be a Data Scientist, you may find grad school will help you achieve your goals, since many employers require a master's degree or even a PhD.
We recommend networking with alumni to learn more about their experiences and decisions about grad school, and a great place to start would be our Career Conversations module!
If you're interested in pursuing a graduate degree in a TDA Career, 
If you know what you want to study

, going right after undergrad aids you with fresh knowledge and lifestyle that lets you be a good student. This includes associated factors like needing to study and complete a graduate level standardized test (e.g. GRE or GMAT). 

If you aren't quite decided

, it can be a great idea to work a professional job for a few years to learn more about your professional interests and goals. Some employers may even support tuition coverage for grad school, or may provide research opportunities on-the-job (Google, for example, supports employee research publications) 
Am I behind if I'm a sophomore who hasn't secured an internship yet?
You are not behind! Ideally, securing an internship should happen during your junior year. However, securing an internship could happen anytime during your college experience as well. And yes, it could even happen during your senior year when you are about to graduate. Even if you are not able to secure an internship as a first year or sophomore, you can always build your experiences (i.e. working a part time job, volunteering, creating projects) to be more marketable the next time you apply!
Can first year students get internships in technology/data?
There are opportunities out there for you. Employers tend to recruit juniors for their internships. However, that doesn't mean that first year students won't be able to secure an internship. There are employers, such as Microsoft, who offer internship programs specifically for first years and sophomores. In addition, networking could also support first year students (and really any year) with their internship search!
This job description has so many specific software and tools listed, I can't know them all! How do I know if I'm qualified for a job?
You're right, it's pretty much impossible to meet every qualification for a job description. The good news is that employers don't expect candidates to be 100% perfect matches. If you meet ~40% of the job description requirements, and you're excited about the job, apply!
Do your best to communicate the key skills/software/tools that match the required job qualifications within your application materials. If you can, incorporate your experiences which may align with any desired/preferred qualifications. If you can demonstrate that you have some transferable skills and are excited to do the job well, you will be qualified to apply.
Do I need to accept or decline an offer from an employer by the deadline (i.e. 1 week) they give me?
No, not necessarily. According to the UW-Madison Employer Recruitment Policies, students within L&S could potentially have up to 4 weeks to make a decision on whether they will accept or decline an offer. Please note, this policy is a recommendation for employers who recruit at UW-Madison.
Is it okay to accept an internship/job offer and then continue to interview for other positions?
You probably shouldn't. Once you accept an internship/job offer, our recommendation is to avoid interviewing for a new position. It's usually not a good idea to go back to an employer, who you've accepted their offer, and say you can't do their internship anymore because you have a new offer.
When should I make an advising appointment with Beth or Hao?
When you have a first draft of a resume or cover letter, and you want feedback (general or job-specific)

Don't know where to start or want to know what best practices are? Click

here!

When you know you'll be interviewing soon, and you want to practice (general or job-specific mock interview)

Want to practice a bit or get a sense of what kind of questions are typically asked? Click

here!

When you have big decisions to make about your career, and you want to talk to someone about your options. This includes but is not limited to: selecting majors, grad school, job offers,

Interested about information related to considerations and general timelines? Click

here!

When you know you need to find experience, but aren't sure how to start searching. Experience includes but is not limited to internships, jobs, research, volunteer, job shadow.
Want to get started now? Click here!
More Resources
This is an accordion element with a series of buttons that open and close related content panels.
Positions & Salary Information
Library Information & Sciences
Online resources to develop tech skills
Internship & Job Resources
Scholarships
Professional Organizations
Networking / How to stay updated in the field
The Technical Interview
Geographic Information Systems (GIS) Resources
Computer Science (CS) Resources