As SuccessWorks recognizes the annual First-Generation College Celebration, we're excited to share more about our dedication to serving the diverse and talented community of first-gen students at UW-Madison and feature the stories of some of those students who work right here in our office. 
Navigating the world of career planning can feel challenging for any student, and those in the first-gen community often face additional roadblocks in their journeys toward obtaining jobs, internships, and other opportunities. Many first-gen students may not have access to the personal and professional networks that support many students through college and beyond.
To ensure all L&S students lead successful, fulfilling lives after graduation, SuccessWorks is committed to serving first-gen students by connecting them with the resources they need at every stage of their professional development. Last year, SuccessWorks served first-gen students through over 5,200 engagements with advising and career development programs. 
On November 9, 2023, SuccessWorks is hosting a Virtual Alumni Career Panel specifically for first-gen students, where Badger alumni who were first-gen students themselves will share about their experience navigating the job market and provide insights into how students can translate their unique talents, perspectives, and experiences into successful careers. 
SuccessWorks is proud to work in this shared mission of serving the first-gen student community alongside the Office of Student Affairs and the Multicultural Student Center, among many others. 
Seng Thao, a SuccessWorks Career Advisor & Employer Relations Coordinator, specializes in working with students from underrepresented backgrounds, including first-gen students. "There are approximately 3,600 first-generation students in the College of Letters and Science and SuccessWorks wants to highlight the students' diverse skills to attract the many employers who are seeking to hire,"  says Seng. "I've seen an increase in first generation student engagement with SuccessWorks, but there is still a lot of work that needs to be done. My colleagues and I in SuccessWorks are prepared and ready to take on the challenge."
Student Spotlights:
Lily Rudolph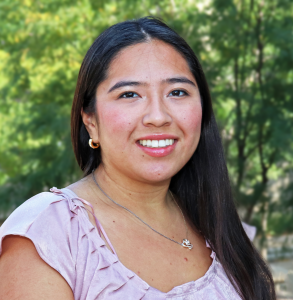 A Junior from Milwaukee pursuing degrees in Psychology and Social Work with a certificate in American Indian & Indigenous Studies, Lily works at our front desk as the first point of contact for visitors to our office. 
As a first-generation student, Lily has found many of the resources at SuccessWorks to be helpful in navigating her personal and professional development while on campus. 
"Using the SuccessWorks Resume module, I was able to update my resume," she says. "Since then, I've received multiple offers and gotten compliments on my resume from every employer I've applied to, so I think it's a really great resource to have." 
Lily has also also found great resources and community from many other campus groups including the Writing Center, ACTS, and the Center for Academic Excellence, where she also works. 
Lily says that she and many of her peers sometimes struggle with access to the knowledge bases that many other students have in terms of applications and finding resources. 
"It starts from the application process." she explains. "Not everyone knows how to apply to college and gather the resources they need. Coming in, I also struggled with financial literacy and was paying for college myself. I actually found the Consumer Science 111 course to be a great place to learn about managing a budget and finding other sources of help on campus. I wish more first-gen students knew about resources like this that can connect them with the help they need." 
When she graduates, Lily hopes to work towards a Master's degree in Social Work and eventually become a social worker at the Native American school which she attended in Milwaukee. 
Bao Hoang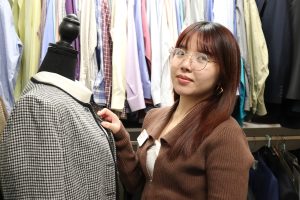 Bao is a Junior from Milwaukee pursuing majors in Marketing and International Business. She chose to come to UW-Madison after frequent visits to campus while participating in the PEOPLE program for pre-college enrichment throughout her time in high school. 
With her time on campus so far, she has found many of her professors to be an excellent resource for advice on personal and professional development. "As the first person to go to college in my family, there's not an adult I can readily ask about things like cover letters or navigating through academic and professional development. My professors have been very welcoming, accepting, and patient, and I've always felt like I can come to them with any questions about school or my future." 
Additionally, Bao has benefitted from other resources like the First Generation Undergraduate Affinity Group at the Wisconsin School of Business and First Generation Student Success (FGSS), a first-gen student org on campus. 
After graduation, she hopes to work in the corporate retail industry, and has the eventual goal of starting a non-profit to help support immigrant and first-generation students in navigating the college application process and the transitions between high school, college, and the professional world. 
As she puts it: "Growing up I really struggled with finding help for planning my next steps, so I really want to help provide an environment for future students to find the resources they need at those moments."
In line with these goals, Bao helps manage the SuccessWorks Career Closet, through which we offer free business attire to any L&S student as they prepare for interviews and entering the workforce. Under Bao's curation and marketing, SuccessWorks has already seen a major increase in the volume of students coming to the office to take advantage of this valuable resource.
Luis Rodriguez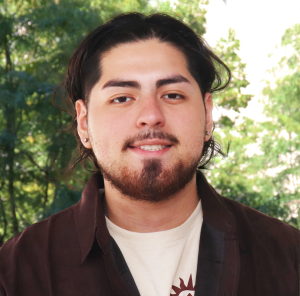 Luis is a fourth-year Pre-Law student from Milwaukee pursuing majors Human Development and Family Studies and Chicano/Latino Studies, as well as a certificate in Criminal Justice. He works as a peer advisor with SuccessWorks, meeting with students to discuss their career journeys and provide useful feedback on their resumes and cover letters. 
When he first came to UW-Madison, Luis found the advisors in each of his academic programs to be a great initial resource for learning about all of the resources available for him on campus. "I think although the resources are there, the trickiest part for a lot of first-gen students is finding them on their own without a support system and often struggling with a sense of imposter syndrome," he says.
Luis says he's also benefited from many of the services offered by SuccessWorks. "Through SuccessWorks, I'm able to stay connected and be up to date in the pre-law track. It's a very unstructured route and preparation can look very different from one student to another, so SuccessWorks has been a great resource to help me navigate that environment," he explains.
A particular focus for Luis at SuccessWorks has been working to help first-gen students going through the same experiences he went through himself.
"For first-gen students, it may take longer to adjust to the university experience," he says. It's important to consider the support they may need, and to make sure they know that they do belong here on campus."  
Upon graduating, Luis hopes to attend law school and work as an attorney. 
Learn More About Our Alumni Career Panel for First-Gen Students here.