Seng Thao
Position title: Employer Relations Coordinator
Pronouns: Career Advisor
Email: seng.thao@wisc.edu
Website: Make an Advising Appointment
Phone: Seng specializes in providing general career advising to students of color and other historically underrepresented students (including first-generation college students, students with disabilities, Pell-eligible students).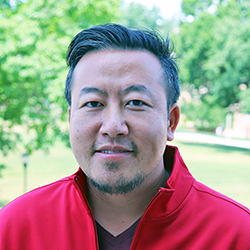 About Me
Hometown: Appleton, WI
Education: BS in Anthropology from UW-Madison, MAE in Educational Leadership & Policy from UW-Oshkosh 
Hobbies: Trying out new food, video games, traveling and enjoying the great outdoors.
Fun Fact: I read One Piece manga and I have 4 boys.
What was your best/worst student job or internship?
The most interesting job that I had as a student was working at Memorial Union. I helped with room setup for events and also worked cleaning the terrace over the summer. The worst thing was cleaning the round table. It's usually stained with a combination of beer, leaves and pollen. Sometimes, I would have to fish tables and chairs out from the lake because someone had a wild night. One of the good things about working at the Memorial Union was getting leftover food after an event such as a wedding or a campus event. 
What was the best/worst career advice you ever got?
The best career advice or analogy I ever received was about taking on opportunities. The analogy I was given is "if you can get on a bus that takes you around the world, would you take the chance of getting on the bus". This has been the foundation for what I do. Taking on new challenges and new opportunities to broaden my knowledge. 
What was a career "mistake" you made as a student?
I wouldn't say that it's a mistake, but rather not being aware about the resources that exist on campus to help me with career exploration. I didn't know that there was a career services office on campus that I can go to for career advice. I completed college without meeting my academic advisor so it never occurred to me that there are resources available on campus to help with things outside of academia. 
What do you wish you'd known about careers when you were a student?
Growing up, I didn't know about the many careers outside of being a teacher, doctor or police officer. It never occurred to me that I can work in higher education. It also never occurred to me that a major does not always constitute a career. I never knew that skills I gained outside of academics will prepare me for jobs that didn't align with my major in college. 
What made you decide to work in career services?
I've worked in many different areas of higher education such as an Admissions Counselor, Academic Advisor, and Financial Aid. What intrigues me most about being in Career Services is that I can help students align their academic and personal interests with a job that may be a good fit for them after graduation. I believe that students pursue college for a variety of reasons, but getting a job is one of the most important reasons why a student would go to college. I want to help students find a career path while they are in college.