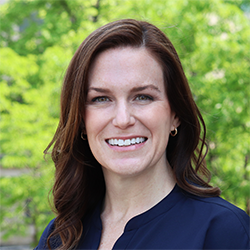 About Me
Hobbies & Interests: Tennis, drinking soymilk lattes, training my new puppy (Ruthie), musical theater, shows at Comedy on State 
From: Wisconsin Rapids, Wisconsin
Education: BA in Political Science and Communication from Miami University, MA in Higher Education from the University of Pennsylvania
What do you like about your Career Community: Nonprofit Management & Education?
Nonprofit and education are the two industries that I am most interested in, as well as the two areas I have worked during my career. I love mission-driven work, and advising this community allows me to learn about students' passions and interests. I get to hear about where they are motivated to make a difference.
What was your worst student job or internship?
My worst internship experience was at a public relations firm in Washington, D.C. I loved being in DC that summer, but hated the internship. I never had anything to do, but had to work 40-hours per week. My supervisor hardly ever talked to me, and I had no idea what was going on. Later I learned that she had been looking for a new job the entire time!

P.S. If you ever find yourself experiencing something similar – reach out to a career advisor and we can help talk through the situation!
What was the best/worst career advice you ever got?
To take some time off and work before going to graduate school. 
What do you wish you'd known about careers when you were a student?
I wish I had learned about informational interviewing earlier. It is such a great tool for both exploring career options, as well as for the job search process.
How did you pick your major?
I had always been a "good communicator," so to me it made sense to major in communications. I added political science after taking some intro classes and realizing how interested I am in politics and political systems, and how much of an overlap there is with history (which I love).
What was your first job?
My first job was refereeing soccer games for kids ages four and five. It is hard to call handballs on four year olds!
What was a career "mistake" you made as a student?
Waiting until senior year to visit my career center!
What made you decide to work in career services?
My assistantship in graduate school was working in the career services office. I really enjoyed working with students to help them accomplish their goals. I also love advising about the job/internship search process, because they are really important topics/skills that (typically) are not taught in the classroom.