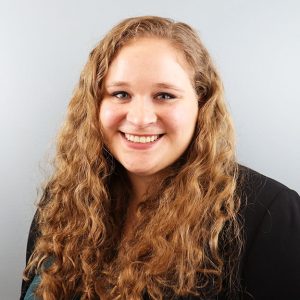 About Me
From: Wauwatosa, WI
Education: BA in Political Science & French from UW-Madison, MFS specializing in International Higher Education from UW-Madison
Hobbies: Reading, travel, farmer's markets, trying (and failing) to keep house plants alive
What was your first job?
I worked a lot of short-term, odd jobs before coming to UW-Madison as a college student, but my first "official" job was as a Team Member in the lakeshore dining halls! I grilled quesadillas, scooped ice cream, and washed dishes, but my favorite job was baking pizzas in the (then) new hearth oven.  By highlighting the communication, organization, and multi-tasking skills I gained while perfecting my pizza craft, I got hired as a Peer Advisor in the International Academic Programs office during my senior year and discovered how much I enjoy working with students.
What was a "career mistake" you made as a student?
As an undergrad, I never attended a career fair. I tried once, mainly because I knew it was something I was "supposed" to do, but I got really overwhelmed and never even made it through the door. Networking at large events is something I still struggle with, even in my current role, but I've found other strategies to make professional connections that feel more natural for me. Focusing on setting up one-on-one conversations and building genuine relationships with people I admire in my field has helped me become more confident with networking, and has even led to some great job opportunities!
What made you decide to work in career services?
When I was a graduate student, I interned at a francophone university in Montreal with their International Student Services office. My main project focused on building career development resources for newly arrived refugees and permanent residents struggling to find jobs and internships in Canada. I learned so much from these students, and saw how difficult it can be to adapt to a new work environment and different version of "professional". Supporting them as they worked through cultural and systematic barriers to accomplish their goals made me want to continue in career services.
What do you like about your Career Community: Government, Policy, International Affairs, and Law?
The students I work with in GPIAL are definitely what I love most about this career community. Their dedication to make the world a better place, whether it's through community activism, federal policy change, international aid, or anything in between is what motivates me to keep building better resources and programs to help them get where they want to go. Having so many options for different types of work and potential employers in this career community can be overwhelming for students (and for me), but there's something here for anyone to get excited about and no wrong place to start exploring!