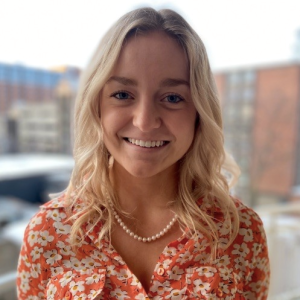 About Me
Hometown: Green Bay, WI
Major: School Psychology Graduate Program
Hobbies: Hiking, cooking and trying new food, attending Comedy on State
What are your current post-graduation plans?
After I finish my graduate program, I will be a licensed school psychologist and hope to work in a middle school.
What is your favorite or least favorite job you've had?
My first job was at the little pizza shop in my hometown. It was a lot of fun because I got hired at the same time as my best friend. We were a really efficient team and kept each other laughing when it got busy/stressful.
What is one thing you've learned about careers that you wish you'd known earlier?
I wish I would have known about SuccessWorks' Career Closet. This is such a great resource for students. Business attire can be expensive especially when you are a student, so this is a great option to still feel confident in an interview or at work without spending a fortune.
What do you like about working at SuccessWorks?
I love one-on-one meetings with students. It is interesting to hear everyone's story, and it is the best when they reach back out to tell of their successes.