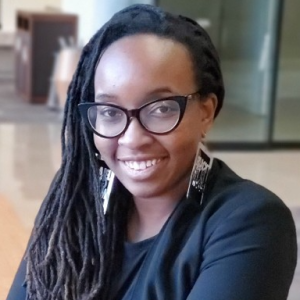 About Me
Hometown: Avon, Indiana
Major: PhD in Curriculum and Instruction with a specialization in race and multicultural education
Hobbies: Dancing, writing, reading, learning Japanese
What are your current post-graduation plans?
I plan to teach and work as a Professor of Curriculum or Education Studies as soon as I finish this dissertation.
What is your favorite or least favorite job you've had?
My least favorite job was as a Learning Management Systems (LMS) clerk. My job was to input data with at least 98% accuracy. The job was particular, repetitive, and a bit lonely. Now that I think about it, 9-5 type jobs just didn't appeal to my energy level at all. I'm glad I can now engage with people every day as a peer advisor and as a teaching assistant. I love engaging with people's ideas and aspirations. The discoveries that students make are so fulfilling to watch. 
What is one thing you've learned about careers that you wish you'd known earlier?
Your degree is merely a foundation that leads to your potential career but it does not have to be immediately apparent from the start. I stressed for years trying to make sure every next step was the perfect next step for my "career". I have said I wanted to be everything from a teacher, lawyer, and executive. No one could have told me I would be an academic. And I love what I do! I wish I knew that I could relax, trust the process, be ok as long as I followed what was authentic to me. 
What do you like about working as a peer advisor at SuccessWorks?
I love helping others feel more confident and comfortable with their futures. A little guidance can go a long way and I feel so grateful to be a part of so many journeys!