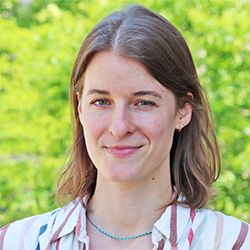 About Me
From: Madison
Education: Bachelors of Music – UW-Madison
Hobbies: Running, vegetable gardening, chess
What do you like about your Career Community?
The students I work with are incredibly creative, thoughtful and passionate. There are so many different ways to craft a fulfilling life for yourself in this career community and I love exploring all those varied pathways with students.
What was your best/worst student job or internship?
I worked for all four years of my undergrad as student staff at the Chancellor's house. I was waitstaff and bartender at public events such as pre-football game day brunches, dinners for visiting politicians and dignitaries and even small private family events like Thanksgiving. 
What do you wish you'd known about careers when you were a student?
I wish I'd known that I didn't need to plan out the next 10 years of my career. I thought I needed to know exactly what I was going to do, which made changes to that plan and the twists that life inevitably throws your way much harder to navigate. Having a direction you want to go in, and goals you want to achieve is fantastic and important, but it's also helpful to be open to new and unexpected opportunities that might come your way.
What was your first job?
My very first job ever was working as stage crew for a local chamber music group when I was 15. For my first full time job, after I graduated I moved to New York City to work as an Orchestra Management Fellow for the Juilliard School. I managed a student orchestra, worked with some incredible guest conductors and helped produce concerts at Lincoln Center and Carnegie Hall. 
What made you decide to work in career services?
My move to career services was largely happenstance. Before starting here I was working as the Grants and Foundations Manager for Overture Center for the Arts, which was a job I really enjoyed. However the pandemic hit and I unfortunately felt that I needed to start looking for new full time work opportunities. A friend of mine works in advising and sent me the job description for this position and encouraged me to apply, and I'm so glad that I did!

This job is one that even two years ago I couldn't have predicted or even conceptualized as a possibility for myself. But when I read the description I was really intrigued and excited by the idea of being able to bring together all the varied threads of my own career along with my love of working with students at my alma mater.