SuccessWorks provides comprehensive guidance and resources for connecting to our 16,000+ undergraduates. We will help you make the most of your online recruiting and on-campus visits, helping you distinguish your organization at UW-Madison. We work for you, and most of our services are free.
New to L&S? Start Here
L&S Talent Connection: If your recruiting team is new to UW-Madison or the College of Letters & Science, we understand that the recruitment process can seem complex. SuccessWorks is here to guide you through the process, giving your recruitment team the personalized attention they need to find the best, brightest candidates.
Career Fairs & Events
All-Campus Career & Internship Fair
The Career & Internship Fair connects nearly 2,000 highly-qualified UW-Madison students from over 100 majors with 200+ employers from around the world.
This is a fantastic opportunity for employers to talk with  undergraduate and graduate students seeking internships and full-time employment.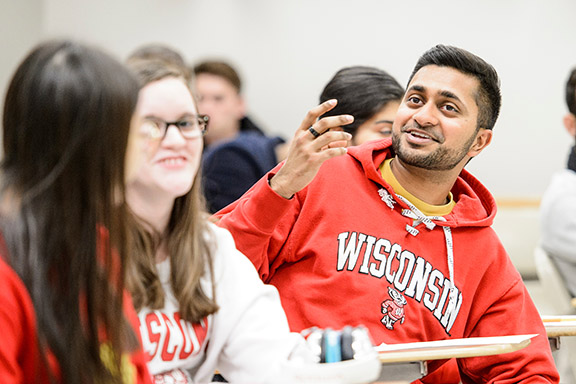 Other Fairs & Events
UW-Madison schools and colleges offer a number of specialized events and career fairs where employers can recruit L&S students. Many are geared toward students interested in specific industries or careers.
Additional events focus on recruitment of specific student populations, including the Multicultural Career & Internship Fair.
Post Jobs & Internships
Use Handshake to connect with over 16,000 Letters & Science students, plus candidates from all other UW-Madison schools and colleges.
"L&S graduates are the ones moving up in our organization."

Milwaukee Tool
"The SuccessWorks team is the ultimate solution in closing the gap between us and the university. They are a huge resource for our talent pipeline, community outreach and employer branding initiatives. The team helps us stay connected to events and students on campus, works with us to find out our needs, and meets our needs by connecting us to their vast network and resources on campus."

Yahara Software
UW-Madison Recruiting Policy
"This document outlines the policies and expectations that regulate employers' recruitment activities on the University of Wisconsin-Madison campus. These policies are designed to create a recruiting environment that is fair and equitable for all UWMadison students. The policies are also intended to make recruiters' efforts to attract talented students fair and efficient for all employers." Continue reading.