A message from Dean John Karl Scholz:

I recently heard the story of Christina ('17), one of our recent graduates, and it put a big smile on my face. Christina works at Epic, a major tech firm, coordinating work between customers and the company's technical teams. What jumped out at me wasn't just that Christina graduated with a Computer Sciences certificate, it was that she told us her English major was a key to her success in the tech field.
While participating in our Taking Initiative career course, she made the connection that creative thinking and problem solving play a huge role in both writing and computer coding. She said, "Technical know-how can be learned. Being an effective communicator takes practice, and there's no better practice than a degree in the humanities."
Christina's experience is a wonderful example of how the College of Letters & Science prepares students for career success by drawing on the full breadth of their passions and talents.
Christina's story—like so many others, whether a student is studying humanities, social sciences, or the physical, biological, or mathematical sciences—is made possible by the incredible efforts of our staff, employer partners, L&S departments and friends. Together, we're transforming the way we prepare our students for success beyond Bascom Hill.
You know by now that I'm all-out excited about SuccessWorks, but along the way, you may have heard me fret: If we build it, will they come?
Student participation in our career readiness programs isn't just growing—it's accelerating. Take a look at our progress from Fall 2017 to Fall 2018.

103% increase in overall student engagement. 
That's not a typo, and we didn't forget a decimal. In just a year, we grew our number of total contacts with students across all programs and services to 9,024.
88% increase in career advising appointments, with an average Net Promoter Score of 80. Plus, more students are coming back for second and third meetings with advisors to dive deep in their career planning.
104% increase in students participating in Mock Interviews for real-world practice with employers who hire L&S students.
70% increase in the overall number of career development workshops and programs SuccessWorks offers students.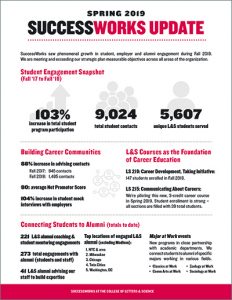 New Video Highlighting Employer Partnerships
We're not just reaching more students—SuccessWorks continues to build new relationships with employers eager to partner with us to hire L&S students for internships and full-time positions. Two companies joined our growing partnership program this spring: Infosec Institute, an IT security training firm, and shipping and business supply company Uline.
With the support of two generous alumni, we recently produced a video telling the story of why partnership with SuccessWorks is a win for employers in Wisconsin, and around the country.
SuccessWorks in the Media
The impact we're making in our students' lives continues to make waves, especially here in Wisconsin. Here's a snapshot of the coverage SuccessWorks has received in the last few months:
Wisconsin Business Voice:
SuccessWorks: Your key to recruiting great talent
InBusiness Madison:
With UW program liberal arts degrees are no dead end
Wisconsin State Journal Op-Ed:
UW helps promote liberal arts – Bob Milbourne
Letters & Science Magazine:
The secret to SuccessWorks
As commencement approaches, SuccessWorks is bustling with a growing advising team, employers conducting interviews, and the students who visit us for mentorship, guidance and career opportunities. The energy level and activity in our space on the third floor of the University Book Store is phenomenal.
SuccessWorks is changing more lives than ever before. Thank you for being with us on the journey.
On, Wisconsin!
John Karl Scholz
Dean and Nellie June Gray Professor of Economics
College of Letters & Science