Your application is often your first chance to introduce yourself to an employer, graduate program, or scholarship review committee. Applications for these opportunities vary and are usually quite different from what you may have filled out when applying for part-time jobs throughout high school or college.
For that reason, it's important to spend time thinking about how your skills and experience make you a good fit for the opportunity. This process can take a little bit of time but trust us (and your future bank account): it's worth it.
On this page, we'll break down the parts of an application and some best practices to consider. If you're looking for examples of resumes for specific industries, check out the Career Community pages.
1. Starting from scratch?
If you're just getting started building your resume or cover letter, check out our resume samples & tool guides below. You can also try our free Canvas module at the link below for a full and detailed guide to resume writing! You'll learn about the main elements of an effective resume, what type of experience you should include, how to write a great bullet point, which resume format to use, and more!
2. Have a resume or cover letter, but want some quick feedback?
Option 1.
Meet virtually or in-person with an advisor for a resume or cover letter review at Same-Day Advising! Make an appointment below.
Same Day Advising will be back Sept 7
Option 2.
Submit your resume online at the link below, and one of our staff will send you feedback and suggestions within five business days.
3. Want more in-depth application advice for specific fields?
Remember to check out our Career Community hubs for resources specific to different career areas, and make an appointment with a Career & Internship Specialist for in-depth resume or cover letter advice and help with your next steps.
Resume Samples and Tool Guides
As you're getting started, here's an important note: you'll want to adjust your resume for each opportunity you apply for! Each job, internship, scholarship, or graduate program requires different skills and has unique needs and requirements, so your resume should be tailored to address each opportunity. It's important to carefully review your resume each time you apply, remove irrelevant information, and reorganize your bullet points so that the most important stuff is always listed first.
Once your resume is ready, consider uploading it to Handshake and explore thousands of jobs and internships from 200,000+ employers nationwide.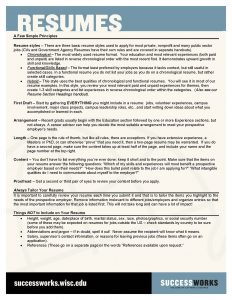 A resume is so much more than a list of your experiences. This outline will show you how to highlight your relevant skills, knowledge, and experiences to give you the best shot possible at getting invited to interview.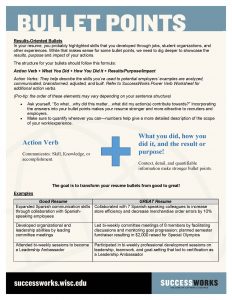 Strong bullet points take the basics of your work experiences and education and turn them into snapshots of your success. This worksheet shows you how.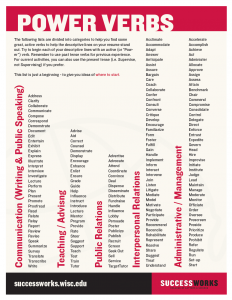 Starting each bullet point with a strong verb helps to showcase your abilities. Use this list to add variety to bullet points you've already written, or to discover new skillsets you can incorporate in your resume.
Your Cover Letter
Your cover letter serves several purposes as part of your application. It demonstrates that you understand the needs of the employer, organization, or grad program and that you "get" them. This is your chance to introduce how your skills and experiences can serve as assets to their team.
The cover letter also serves as a writing sample, and good written communication skills typically rank anywhere from #1 to #3 on annual surveys of skills employers want in their new hires. So proofread, proofread, and proofread again.
Your cover letter and resume are not meant to be duplicates of each other, but to be complements. They should work together to help build your case as a qualified candidate for the position or opportunity you're applying for.
If you have any questions or would like another set of eyes on your cover letter, let us know. Our career and internships advisors and specialists are here to help guide you through this process.